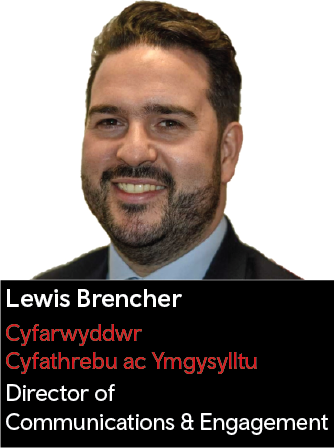 Lewis is a strategic communications, commercial and customer focused professional, with wide experience within the transport sector in Wales. His previous roles have included senior operational, commercial and communications responsibilities.
Lewis leads the development of all the communications & engagement activities across TfW. This includes leadership of the teams responsible for the development of the TfW brand, engagement with stakeholders, communities and elected representatives, as well as media and colleague engagement.
Lewis leads the development of communications activities across the rail industry in Wales in his role as co-chair of the Wales Route Joint Communications board, developing collaboration with Network Rai, British Transport Police and other partners. Lewis has previously undertaken operational and customer service management roles, with previous responsibility for managing the Cardiff and Valleys rail station network.
Lewis is a Member of the Chartered Institute of Public Relations, and the Institute of Railway Operators, and a keen Welsh learner. Lewis is a Trustee with Rhondda Cynon Taff Citizens Advice.